The Assembly, the region's first Smart Lab-Maker Space and Community Learning Initiative based in Dubai, concluded its second Show & Tech, an exhibition featuring innovative DIY projects contributed by tech enthusiasts of all ages from around the country. The annual event, held on 8 June at the In5 Tech space in Dubai Knowledge Park, saw 50 projects from across 20 Education Institutions and over 200 visitors.
The Assembly showcased projects from the innovation-focused community around smart technologies.
This year's winners were:
First Prize: ALIVEAN – Machine Learning App For The Visually Impaired – the project was put together by a team from Our Own English High School, Sharjah that included Mrudul Mamtani, Vraj Rajpura, Ahsan Nayaz, Aryan Krishnan
Second Prize: Road Rash No-More – AR App For Driver Interaction – the project was put together by Ayesha Riyaz, Farhana Islam, Jannatul Haq, all from University Of Wollongong In Dubai
Third Prize: Broccoli Brains – Mind-Controlled Toys for Focus Building built by Rishabh Java from Gems Millennium School, Sharjah
The projects were judged by Alberto Araque, VP Internet of Things & Digital Payments at Etisalat Digital; Ashish Panjabi, Chief Operating Officer for Jacky's Business Solutions; Bruno Gisquet, Marketing Director at Volkswagen Middle East; Matthew Karau, Lecturer Of Engineering Design at New York University Abu Dhabi and Vijay Jaswal, Chief Technology Officer for Middle East & Turkey at Software AG.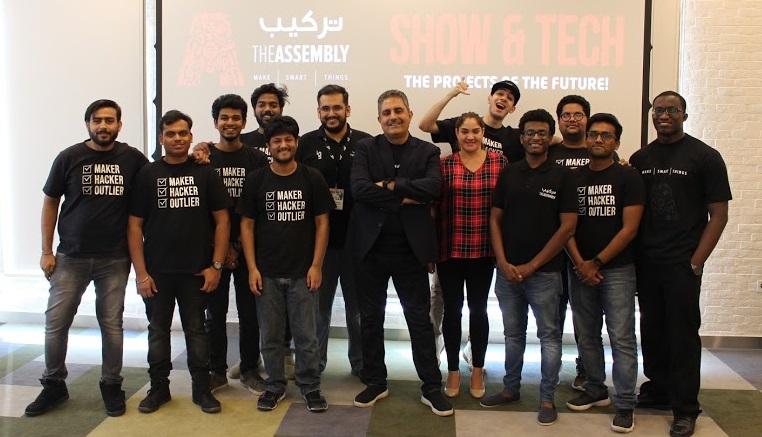 In addition to the winning projects, a few projects deserved special mention:
AI-Based Recognition System for American Sign Language: developed by Divya Ann Jacob of Heriott-Watt University Dubai
BLOCKSupplAI: Pharmaceutical Supply Chain Management With Blockchain developed by IM Sahan Ratnayake, Hareem Fatima, Mehvish Fatima and Adam Khan Liwal (All from University of Wollongong In Dubai)
Prashant K. Gulati (popularly known as PK), entrepreneur and Founder of The Assembly, said, "We are very happy to help foster and encourage the next generation of innovators and it was very rewarding to see twice the number of entries this year. We will continue to empower these entrepreneurs and creators through our workshops to enable more people realise their dreams."