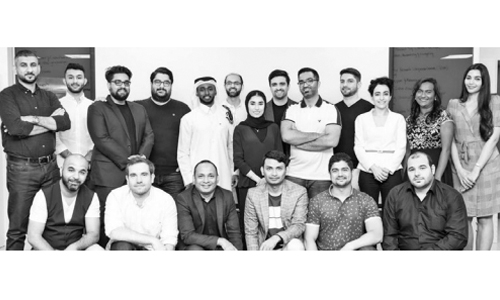 Flat6Labs Bahrain is set to host its Second Demo Day at the National Theatre of Bahrain today where eight startups from its second cycle will showcase their businesses in front of an audience consisting of VIPs, investors and other prominent officials. The second cycle received over 200 applications from more than 40 countries which were then narrowed down to a final selection of eight Startups that consisted of teams both locally and internationally, with businesses offering products and services from a wide range of industries such as SaaS, FinTech, EdTech, F and B, E-commerce and more.
Speaking to Tribune, Ryaan Sharif, Managing Director of Flat6Labs Bahrain, said: "This also marks Flat6Labs Bahrain's first year anniversary of launching in the country, during which it has invested in a total of 16 startups, eight of which being Bahraini. Over the course of its two cycles, Flat6Labs Bahrain has received over 500 applications, from over 45 countries. "We are grateful for the outstanding support from our partners Tamkeen and EDB, whose efforts have contributed to accelerating entrepreneurship in Bahrain and our work towards growing the local startup ecosystem." 
"Flat6Labs is a regional startup accelerator programme and seed investment company that fosters and invests in bright and passionate entrepreneurs with cutting-edge ideas. It provides seed funding, strategic mentorship, a creative workspace along with a multitude of perks and entrepreneurship-focused business training."  "In addition, it directly supports startups through an expansive network of partner entities, mentors and investors. The programme accepts startups with innovative solutions from all sectors. Over the next three years, Flat6Labs Bahrain is braced to support and invest in over 40 local and international startups, with two cycles of the program per year. The third cycle will commence in June and the deadline for applications is March 10."
Flat6Labs has created an environment where entrepreneurs can advance their company at an incredible pace and a short period of time. Flat6Labs currently has accelerator programs and seed funds in Cairo, Jeddah, Abu Dhabi, Beirut, Tunis and most recently in Bahrain." The Labour Fund (Tamkeen)'s Chief Executive Dr Ebrahim Janahi praised the key role of this programme in assisting startup ventures to become fully operational and sustainable businesses. 
"As part of Tamkeen's objectives, bridging the gap between startups and potential investors and growth opportunities help boost the private market's performance. It inherently supports the attraction of investments, while supporting Bahraini enterprises including startups to pursue their expansion as local commercial drivers." Khalid Al Rumaihi, Chief Executive of the Bahrain Economic Development Board, further added: "Since its inception, Flat6Labs has been an invaluable resource to the start-up community in the Kingdom.
The acceleration programmes being offered benefit both local and regional entrepreneurs looking to develop innovative solutions in industries like financial services and education technology, amongst others. "As part of our mandate to diversify the economy, the EDB will continue to support the startup ecosystem to allow entrepreneurs to develop and learn from key mentors so that they can thrive and scale out to the region and beyond."