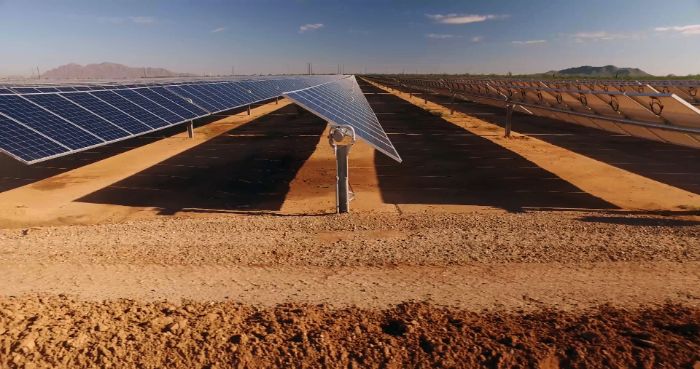 22 Jun 2021
UAE-based AMEA Power has commissioned a 50MW photovoltaic (PV) solar plant in Togo, one of the largest independent power producer (IPP) projects in West Africa. Funding for the project was provided by the Abu Dhabi Fund for Development (ADFD) and the West African Development Bank (BOAD)
UAE-based AMEA Power has commissioned a 50MW photovoltaic (PV) solar plant in Togo, one of the largest independent power producer (IPP) projects in West Africa.
The Sheikh Mohamed bin Zayed PV solar plant was developed in Blitta, Togo, and is able to produce 90,255MWh of electricity a year to meet the consumption of more than 158,000 homes.
AMEA Togo Solar will operate and maintain the plant for a period of 25 years.
Funding for the project was provided by the Abu Dhabi Fund for Development (ADFD) and the West African Development Bank (BOAD).
Amea Power has a portfolio of 2GW of power capacity across the Middle East and Africa.
In December 2019, Energy & Utilities reported that AMEA Power had signed power purchase agreements (PPAs) with the Egypt Electricity Transmission Company (EETC) for 700MW of renewable energy capacity in the North African country.
AMEA Power will develop a 200MW photovoltaic (PV) solar and a 500MW wind power project, both under the independent power producer (IPP) model. The developer signed the PPAs on 10 December at a ceremony in the presence of Egypt's prime minister, Mostafa Madbouly, the Minister of Electricity & Renewable Energy Mohamed Shaker.
The developer signed a 25-year PPA for the solar project, which will be located in the Kom Ombo area of Aswan, and a 20-year PPA for the wind project, which will be located in the Ras Ghareb area of the Egypt. The solar plant is due to be commissioned in the last quarter of 2021, while Ras Ghareb is due for completion in the third quarter of 2023.
Want more Energy & Utilities insight?
Free energy tutorials at your fingertips this May and June with Middle East Energy Online
Be confident in finding the inspiration you need to navigate the energy evolution. Be energised by 40 hours of free virtual seminars, tech demos, case studies and thought leadership, to help you find the answer to your project challenges, only through Middle East Energy 2021. Plus, discover over 150 renewable and clean energy, transmission & distribution, critical & backup power and energy consumption & management suppliers and solution specialists, from solar and green hydrogen to automation solutions, EV controls, plus switchgears and components.